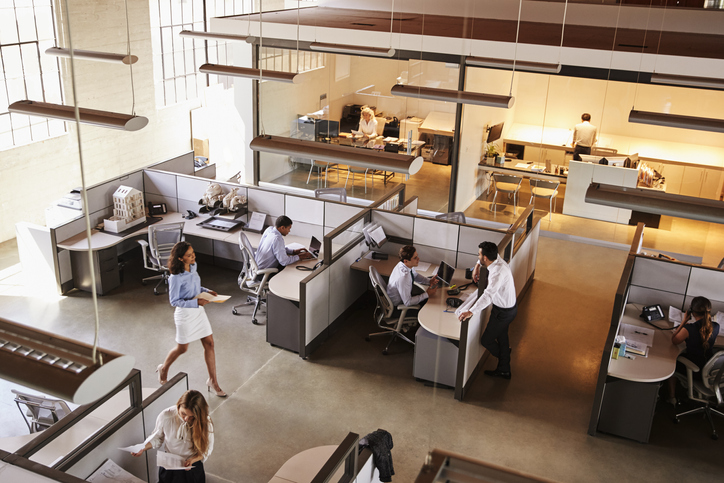 The Benefits of Office Partitioning
Office Partitioning Systems
There are many ways to make your workplace more efficient. Some companies invest in time and energy studies, where consultants investigate how staff use their time. They have the intention of identifying areas where your employees can work more effectively or efficiently. Other managers go down the line of incentives and rewards. Sometimes this is to reward the highest achievers, whereas others attempt to use cooperation and shared rewards to motivate their team. Of course, these methods have their advantages. Some managers have achieved good results by these and other ways of working. But the truth is that you could be missing out on a simple, cost-effective and easy to use solution – office partitioning.
Office partitioning is where you take a larger office space and divide it into smaller spaces using non-permanent barriers. These can be installed quickly and without fuss. The larger area in the workspace is divided into smaller spaces. These can either be individual cubicles, or bays in which teams or departments work. The use of office partition walls ensures that there are distinct areas to work in for each person in your employment.
Office Partition Panels
So why is this such a good choice? Why are office partition panels beneficial for your workplace or business?
It might seem a simple solution, but dividing your workspace is a very powerful way of making the use out of your space. The most obvious benefit is that it ensures that the space you have can be used effectively. Dividing it down ensures clear demarcation of lines. Spaces that are intended for desks, printers or storage are easy to define and it is harder to accidentally allow one area to encroach on another. You can also make better use of storage. One problem in a large area is the lack of wall space and the fact that shelving can be approached from any direction. With barriers and careful design of space, you can layout the storage areas in the way that you want them.
Another benefit is that you can influence your workers. With the best will in the world and a professional team who are willing to work hard for you, distractions can be costly. It is great to have office banter and a good working spirit, but when your team get back from break and down to work, you want to know that they are ready to focus on their tasks. Barriers can help employees to stay focused on their work. It breaks lines of sight and means that staff keep break time chat where it belongs – at break time. At the same time, your employees are not isolated by large, solid walls. When they need support or assistance, they are still in easy reach of their colleagues.
Most workplace renovations are expensive and time consuming options. For example, imagine a renovation of your workspace. You would need architectural support, costly if you do not have the expertise within your workforce. Then you would need to get planning permission for structural changes. Having completed all of this, you then have the extended period of time where your offices are shut down, forcing you into alternative workspaces or even preventing your team getting any work done. In contrast, office partitioning systems give the benefits of a renovation without the cost or hassle. Office partition screens are quick to fit and affordable. They do not need planning permission, and they can be moved and changed as your requirements change.
If you need office partitioning systems, contact the team at Central Storage. We are on hand to help you find the right space optimisation solutions for your workplace.