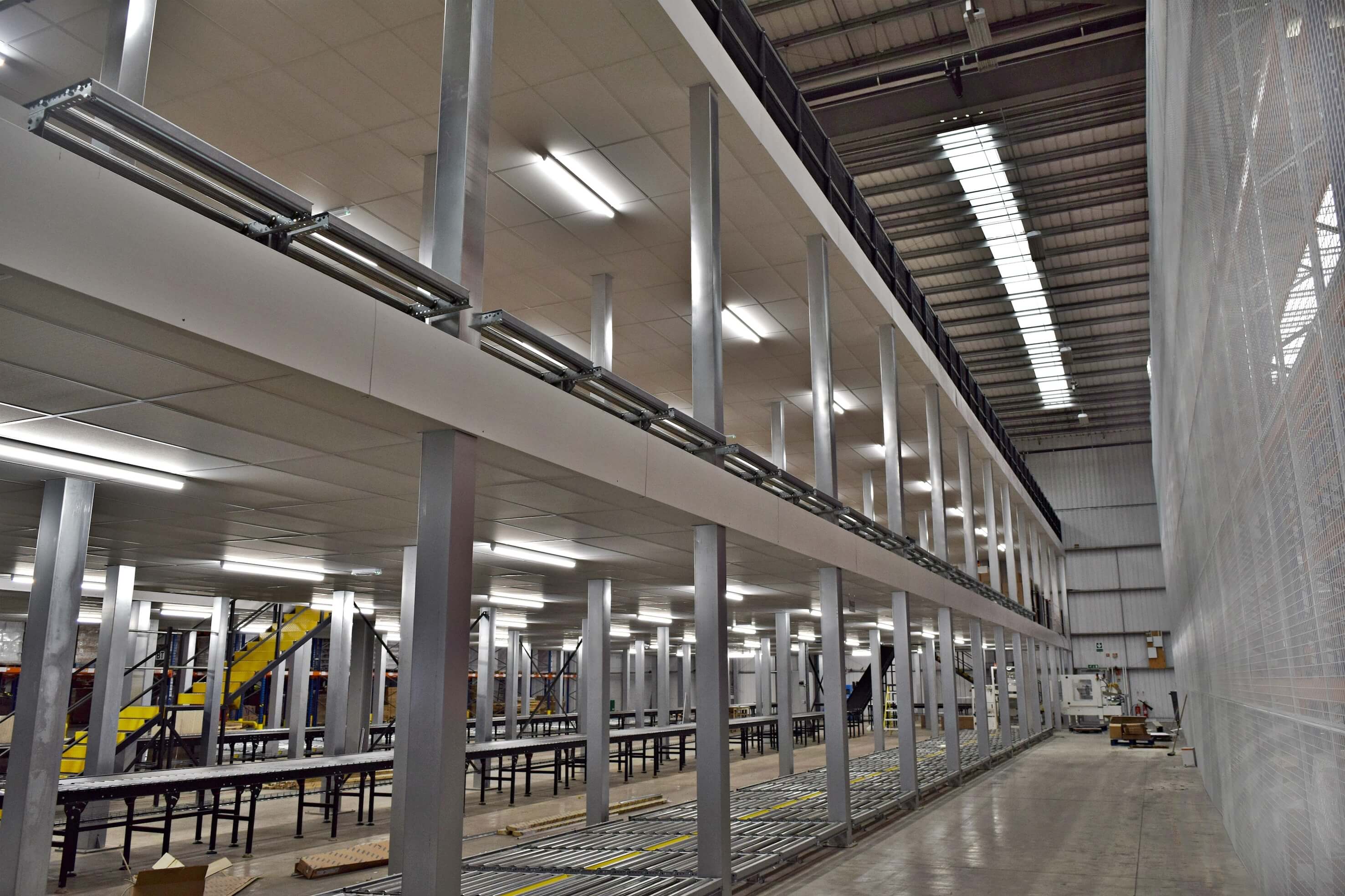 All About Warehouse Mezzanine Flooring
Warehouse mezzanine flooring systems are the perfect way to double your storage space without the need for relocation or making large structural changes to the building. When a mezzanine flooring system is installed, a self-supporting steel structure is formed above the existing concrete floor of the warehouse. It offers additional floor space that is reliable, safe and sturdy. Read on to find all about warehouse mezzanine floors for warehouse spaces, and how Central Storage Ltd can help you to make the most of your building's space.
Access All Areas
It goes without saying that a mezzanine flooring system is an incredible storage solution. However, what makes it so good is that the mezzanine platforms can offer easy access from stairways to reach pallets without the need for pallet jacks. Staircases, pallet gates, handrails, and kick plates can be incorporated into your bespoke mezzanine design, helping the whole business operate more efficiently and effectively.
Suitable for Heavy Loads
Each square metre of the storage mezzanine flooring is able to withstand up to 500kg as standard, making it suitable for heavy loads. This limit is known as the UDL (Uniformly Distributed Load), and it includes the use of a hand pallet truck when carrying a 500kg pallet. If you require heavier loads than this, you can talk to our team, and we can take your requirements into the design process in order for your warehouse mezzanine to carry the necessary load.
Bespoke Mezzanine Flooring
As mentioned, warehouse mezzanine platforms can be customised to your exact specifications. Providing a bespoke service, our warehouse flooring system is made to be a lightweight storage solution that is both stylish and sturdy, making it ideal for your practical needs as well as your chosen design aesthetic. In addition to creating an extra level of storage space, warehouse mezzanine systems can also be fitted with bespoke shelving systems that enable you to make the best use of any overhead space, offering a multi-purpose solution to your storage needs, and saving you time and money in the long-term.
The Main Ancillaries
As well as the mezzanine platform itself, you can also include three main ancillaries, which refer to the staircase, the handrails, and installation of a kick plate at the bottom. Staircases are needed in order to access the mezzanine floor, with the handrails being an important safety feature for preventing accidents and injuries. Kick plates are installed as a precaution to make sure that no loose objects fall from the floor. Finally, you may install a pallet gate, with a choice of either a pulley gate, swing gate, or an up-and-over gate.
Contact Us
To find out more about our warehouse mezzanine systems in the UK from Central Storage Ltd, please contact us through our web contact form, or email us at sales@central-storage.com. You can also call us on 01299 251374 to speak with a member of the team directly. We will be pleased to help you with any queries you may have for us.